Heart of Housing
Who do you mask up for? #MaskUpMA
Coronavirus COVID-19 Vaccine Information
Coronavirus COVID-19 WHA Updates
Page Last Updated: May 7, 2021 7:39AM (EDT)

PHONE
To receive up-to-date WHA alerts, text WHACOVID to 67076
Text to join the WHA COVID-19 alerts and receive the latest updates on COVID-19 / Coronavirus on your phone.
*** THE WHA IS OPEN, BUT ALL OUR OFFICES ARE CLOSED TO THE PUBLIC EFFECTIVE IMMEDIATELY UNTIL FURTHER NOTICE ***
---
SELECT ON TOP RIGHT PAGE FOR LANGUAGE TRANSLATION
---

[PDF] Resident Newsletter: Coronavirus COVID-19 Updates & Guidance (3/22/21)


CORONAVIRUS (COVID-19) UPDATES & GUIDANCE
WHA RESIDENT NEWSLETTER
LATEST UPDATE - March 22, 2021
The WHA is pleased to announce that it has completed its first round of COVID-19 vaccine doses to eligible senior residents. In total, almost 70% of eligible residents have been vaccinated. In addition, from January to February, COVID-19 infection rates in WHA properties has dropped by almost 50%. These numbers reflect what our efforts as a community can do to reduce the spread of this virus.
Whether you are vaccinated or not all restrictions remain in place. Our COVID Taskforce is meeting regularly to discuss reopening plans and as decisions are made, more information will be shared.
There is still a mask mandate in place and masks continue to be required, whether you are vaccinated or not, on all WHA property.
Please continue to frequently wash your hands and sanitize high-touch areas, such as doorknobs, light switches, remote controls, and countertops.
Avoid crowded and poorly-ventilated spaces and maintain social distance from others.
Many of our school-aged residents are attending school virtually and many adult residents are working remotely. Be respectful of your neighbors keep noise to a minimum.
Benches will be reopened, but social distancing must be maintained; two people, max.
Elevator capacity is still limited to a maximum of 4 people at one time.
Community rooms will remain closed for the time being.
The City of Worcester is partnering with the WHA to run vaccine clinics in the Great Brook Valley/Curtis Apartments area, which will be open to all residents age 16 and over. More information will be shared as those details are confirmed; however, we expect those clinics to begin in early April. We hope you will participate for yourself, your loved ones, and the community.
Thank you.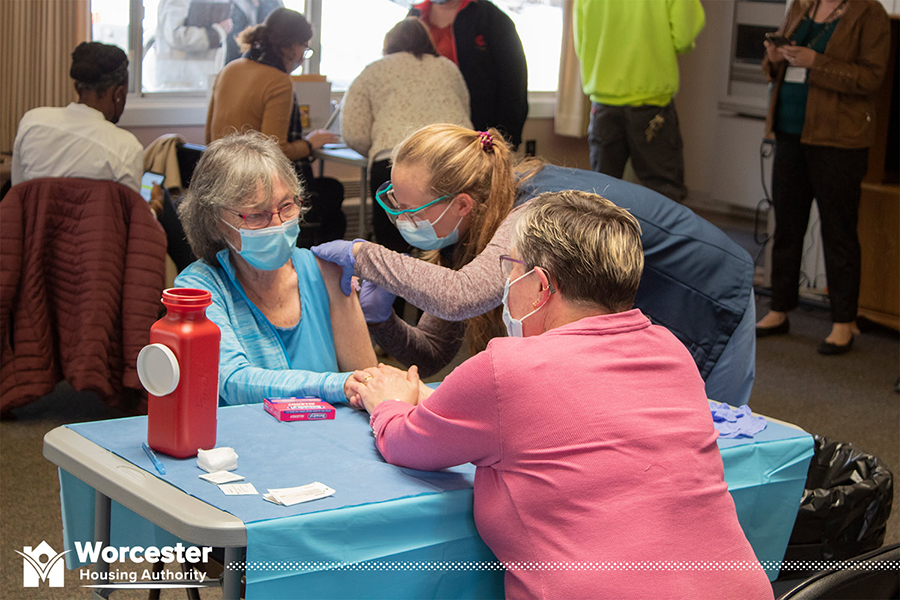 Click image to view album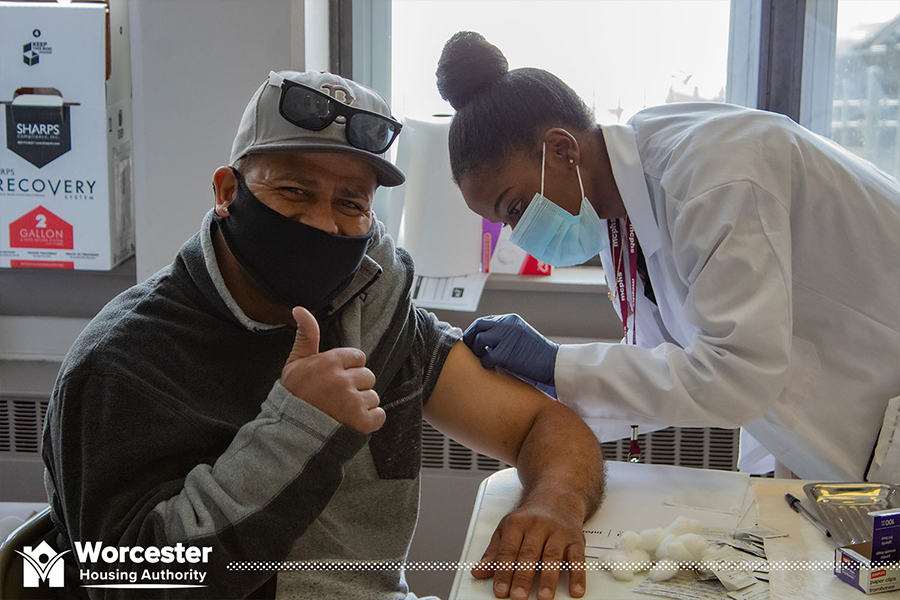 Click image to view album
RESOURCES
Want to know if you're eligible for, or want to book a COVID vaccine?
www.mass.gov/covid-19-vaccine
Need a COVID test?
www.mass.gov/info-details/find-a-covid-19-test
Need information?
Call the City of Worcester COVID-19 hotline at 508-799-1019, open Monday through Friday, 9:00 a.m. to 4:00 p.m. Available in English, Spanish, Vietnamese, and Albanian
Infected or exposed? Need a mask?
Call your Property Manager or Resident Services at 508-635-3306 for resources to help you quarantine safely.
Other resources:
Text WHACOVID to 67076 for text alerts or visit our website: www.worcesterha.org/covid19.html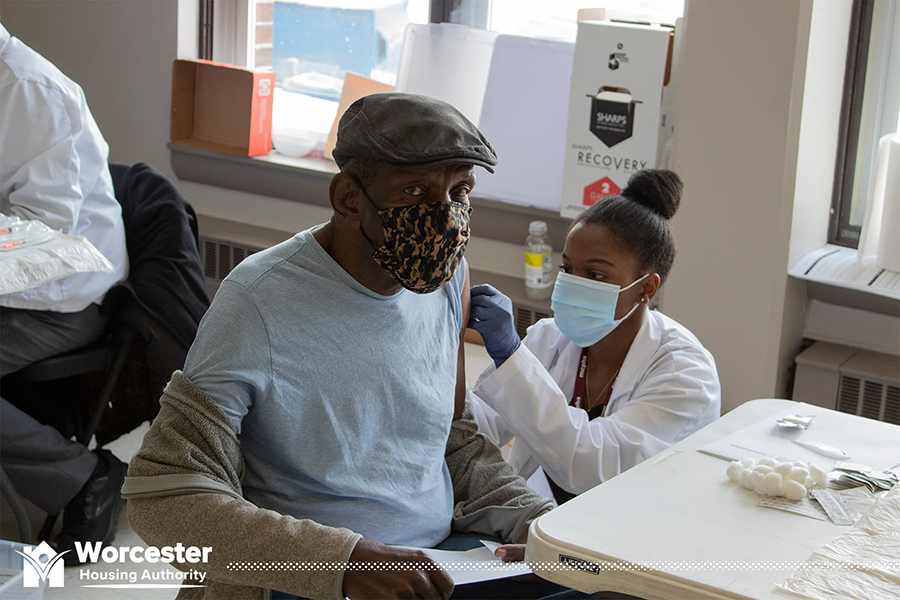 Click image to view album
VACCINATED?
People are considered "fully vaccinated" two weeks after their second dose in a two-dose series (Pfizer or Moderna), or two weeks after a single-dose vaccine (Johnson & Johnson).
If it has been less than 2 weeks since your shot, or if you still need to get your second dose, you are NOT fully protected. Keep taking all precautions!
Fully vaccinated people can gather indoors with other fully vaccinated people without wearing a mask, or with unvaccinated people from one other household (for example, visiting with relatives who all live together) without masks, unless any of those people has an increased risk.
If you've been around someone who has COVID-19, you do not need to stay away from others or get tested unless you have symptoms.
You are no longer required to quarantine or test negative for COVID-19 after traveling (unless you are demonstrating COVID symptoms).
VACCINATED?
You are still at a high risk for contracting COVID-19 and spreading it to others, including those at high risk, such as elders and the immune-compromised.
Continue to wear your mask at all times, indoors and outdoors, when congregating with or visiting with others from outside your household.
If you are exposed to the virus, quarantine and get tested to ensure you do not pose a risk to others. A large segment of the spread of the virus has been attributed to asymptomatic individuals.
Continue to maintain social distance at all times and sanitize high touch items and areas frequently to protect yourself and your loved ones.
Talk to your doctor about getting vaccinated!Researchers estimate that 70-85% of the country needs to be vaccinated for COVID to stop. In the US, approximately 80 million people have been successfully vaccinated to date. We need your help building immunity for the community.

[PDF] Education for Children with Disabilities During COVID-19 (3/2/21)


Education for Children with Disabilities During COVID-19
A virtual presentation by Worcester Public Schools with the opportunity for parents to have input and ask questions.
Wednesday, March 10, 2021 | 6:00 PM - 7:30 PM
To join the webinar, please CLICK HERE
Telephone: US: +1 301 715 8592 or +1 312 626 6799 - (Interpreters Available)

Spanish Presentation
Wednesday, March 17, 2021 | 6:00 PM - 7:30 PM
To join the webinar, please CLICK HERE
Telephone: US: +1 929 205 6099 or +1 301 715 8592

Questions? Please call 508-799-3202

[YOUTUBE] WHA COVID-19 Vaccine information in SPANISH (2/9/21)


WHA COVID-19 Vaccine information in SPANISH
EN ESPAÑOL
Panel discussion with:
Alex Corrales
- CEO, Worcester Housing Authority
Mattie Castiel, M.D.
– Commissioner of Health and Human Services, City of Worcester
Mireya Wessolossky, M.D.
- Infectious Disease Specialist at UMASS Memorial Medical Center
Yoel Carrasquillo Vega, M.D.
– Director of Hospital Medicine – UMASS Memorial Medical Center
Jose Ramos
- Commissioner, WHA Board of Commissioners
Gina Plata-Nino
- Staff Attorney, Central West Justice Center (Moderator)

[PDF] Conversación Virtual Sobre Las Vacunas Del COVID-19 y el Flu (2/3/21)


Conversación Virtual Sobre Las Vacunas Del COVID-19 y el Flu
EN ESPAÑOL
Miércoles, 10 de Febrero de 2021 | 5:30 P.M. - 7:00 P.M.


Únete a la conversación virtual con la Ora. Mattie Castiel, Comisionada de Salud y Servicios Humanos de Alcaldfa de Worcester
Moderador: Leo Negron Cruz.
Únete por Zoom: https://worcester.zoom.us/j/96659409495


Para mas informaci6n puede comunicarse con Hilda Ramirez, directora ejecutiva del LEI,
hramirez@worcester.edu
Tel:
508-410-6015
.
Sponsored by:
Worcester State University | Latino Education Institute
The City of Worcester
Protégete Latino | Encontra Del Coronavirus (COVID-19)
REACH | Racial and Ethnic Approaches to Community Health WORCESTER
---
Updated CDC Moratorium Guidelines
WHA Public Housing Nonpayment of Rent Self-Declaration Form

Leased Housing Nonpayment of Rent Self-Declaration Form


---
UMass Memorial Medical Center FREE COVID-19 Testing Schedule (Current)
---
WHA COVID-19 Resident Resources List (Current)
---
Help Prevent Sewage Overflow (3/25/20)
---
Conornavirus Disease (COVID-19): Know Your Rights (Updated 3/18/20)
---
COVID-19 (Coronavirus Disease 2019) Resources

As you are aware, concerns about the COVID-19 virus (aka coronavirus) are increasing and, as with other businesses around the country, the WHA is actively monitoring developments and will do whatever is necessary to protect our staff and residents. The virus symptoms manifest as a mild to severe respiratory illness with fever, cough, and difficulty breathing. The Centers for Disease Control (CDC) believes at this time that symptoms may appear in as few as two days or as long as 14 days after exposure.

The WHA is working diligently to provide all staff and residents the provide all information pertenint to the Coronavirus Disease 2019 situation. While we are always there for you via email/phone, we encourage you to utilize the various remote tools available especially the CDC and the World Health Oganization (WHO).

Here are some informational resources regarding the novel coronavirus (COVID-19) and how to keep your communities safe and healthy. In addition, please remember to check with your local health department and local governments.

The Department of Housing and Urban Development's COVID-19 page states that "[e]veryone should continue promoting everday disease prevention strategies;"

- If you are sick, stay home from work or school.
- Avoid close contact with those who are already sick.
- Cover your nose and mouth when coughing or sneezing with a tissue or the crook of your arm.
- Wash your hands often with soap and water.
- Avoid touching eyes, nose, or mouth.